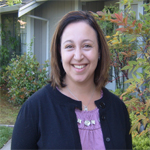 ABOUT ME
I am a northern California native and mother of three. I trained for my undergraduate degree in psychology at the University of California at San Diego, and for my Ph.D. degree at the University of Florida at Gainesville. While my training was extensive and broad, I did specialize in child, adolescent, and family therapy. My internship brought me back to UC San Diego and Children's Hospital San Diego, and I stayed on there to do postdoctoral training as well. I worked for Kaiser Permanente in the North Valley for several years, in both the adult medicine and pediatrics departments, before starting a private practice in Folsom in 2002.
I have had extensive experience in assessment (psychological testing), diagnosis, therapy, and consultation. I enjoy working with a wide variety of clients, including children, adolescents, families, couples and individuals. My specialties include diagnosis and treatment of Oppositional Defiant Disorder (and less severe childhood behavioral problems), ADHD, depression, anxiety, and problems associated with both chronic and acute illness (such as cancer, diabetes, high blood pressure, and obesity). I have published numerous articles in peer-reviewed journals in the areas of adult and child behavior and health and quality of life (see C.V. section of this website).
While I will draw from a variety of theoretical orientations (ways of thinking about therapy) my main framework is from a cognitive-behavioral perspective. This means that I believe that our thoughts directly affect our thinking, which in turn directly affects our behavior, and so on. More broadly, however, I believe that my clients know themselves and their children best, and we use that expertise to uncover your strengths; these strengths can then be used to improve your thoughts, your relationships, and your life.
The best way to reach me is definitely by email: drjeniferj@gmail.com.
Phone calls are sometimes not returned for up to a week for non-urgent matters, so email is a faster way to connect.
If you need to cancel an appointment, please know that I charge a full fee for appointments cancelled with less than 24-hours notice.
If you are canceling at the last minute, however, please do call as well to let me know: (916) 941-5364. Also, for full assessment (those lasting more than one hour) there is a $200 nonrefundable deposit to reserve the appointment.
I look forward to meeting you if you choose to make an appointment, and to find out if I would be a good match for your needs at this moment in your life.